You need Stock permission to add a stock item. If you don't have access to this module, ask someone with Managers permission to update your user permissions.

It is recommended that you first setup your suppliers prior to adding stock items.

For best practice stock item setup please take a look at our item grid.

For specific information on how to setup your supplier codes please click here.
To access head to Stock and then Manage, Items.
To add a new item, click Add New Item.

Loaded has a master list of items which you can search. Start typing the item you are wanting in the search box, this will bring up items relating to what you are looking for. Select the relevant item and click Add item. If there is no relevant Item please see the details below for how to add a Custom Item
The item will have now been added to your site. To view all of the details of the added item you can click on the item name which will display the popup editor below.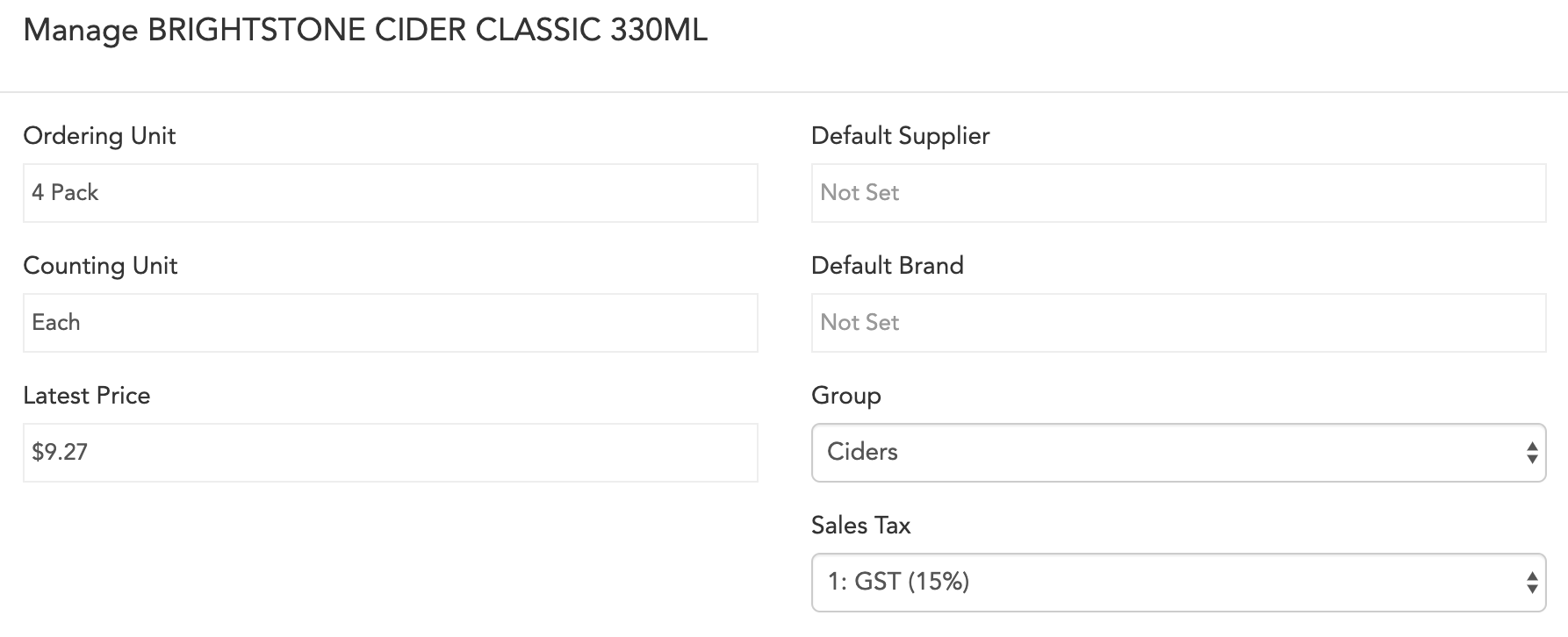 Ordering Unit - This is the pack size you expect to order the stock item by.

Counting Unit - This is how you expect to count the item.

Latest Price - There may be an estimated price of the item listed under latest price, however wherever possible you should enter the price you will be paying for the item.

Default Supplier - You should set the supplier you expect to order this stock item from here.

Default Brand - This is the brand you want the supplier to provide, ie Watties rather than Heinz tomato sauce.

Group - This is the group the stock item belongs to for stocktaking and cost of goods purposes. Items from our master list have already been grouped correctly so we do not recommend making changes to this.

Sales Tax - The default sales tax and options available in the dropdown come from the default tax rate you setup under your account settings, if you need to change the sales tax for an individual item you can do so here.
Adding a Custom Item
Click the blue Add New Item button on the right-hand side of the page

This will take you to a master list, select Add Custom Item from the bottom left-hand corner

Type in the name of the item

Input the units it is ordered in

Input the units you wish to count in when stocktaking

Input a price per unit from your supplier pricing list or website

Input a default supplier, the supplier you wish to automatically order from

You can input a brand name if you want to but it is not necessary

Select a group to save the item to, this will show up as a category on the purchase orders and will also dictate where this item sits in your stocktake sheets and how it calculates in your cost of goods.

Then press the blue Add Item button in the bottom right-hand corner of the page
Other articles and resources that you might find useful.