You need reports permission to view and edit the budget. If you can't complete this, ask someone with Managers permission to update your user permissions.

The Actual sales provided in the Budget comes from your POS system, it will only go back as far as the data in your POS system does.

The budget set in this module is the budgeted figure used right throughout Loaded. If a budget has not been set the budget will be shown as zero for any given time period.

You can set your budget as far forward as you wish. IE You can do it on a week by week basis or fully complete the year ahead.
Your company may or may not have existing Budgets in place. If you already have a budget all you will need to do in Loaded is break to down into monthly/weekly/daily targets.
If you don't already have a budget, Loaded tracks your sales from the previous year (by comparing this year to the closest weekday last year), enabling you to set the budget at that level or wherever you believe is realistic for you to reach this year.
Entering your budget
Click on the text box & type in your budget incl. GST for the day,

You'll notice as you complete the box highlights in green to tell you it has been saved.

Once you have set all daily budgets for the month you're currently in you can move on to the next month, by clicking month> under the date at the top right of the screen.

As you complete the daily budget target, you will see the weekly and monthly budget are automatically built as well.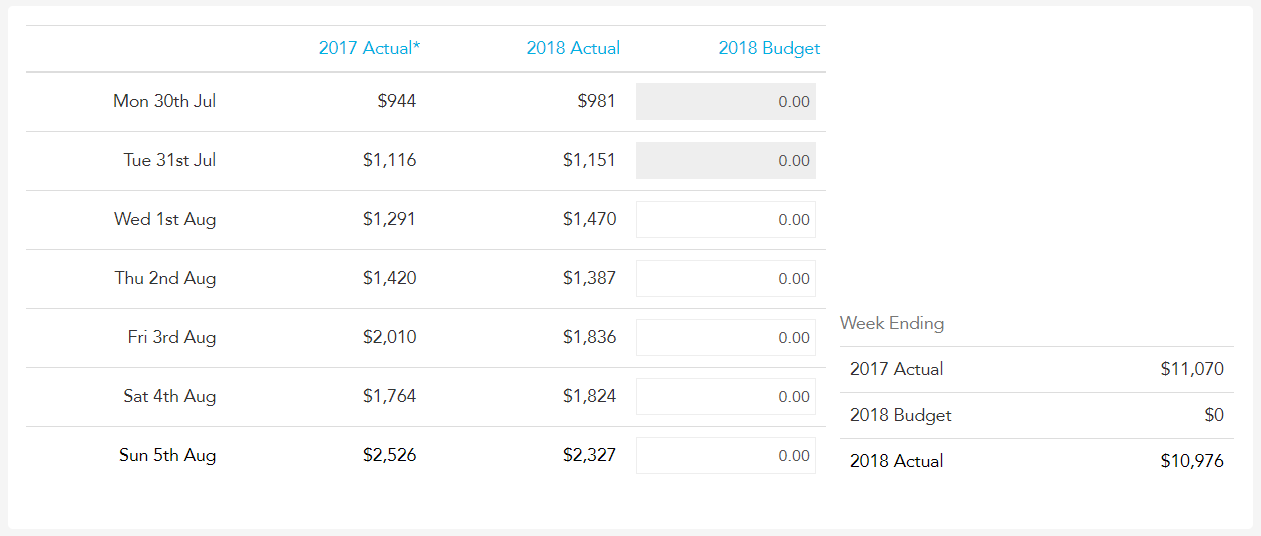 Once you have completed your budget the actual sales for this year is imported (as the sales happen) and shown against the comparison date. All sales are GST inclusive except where explicitly shown in the monthly overview.